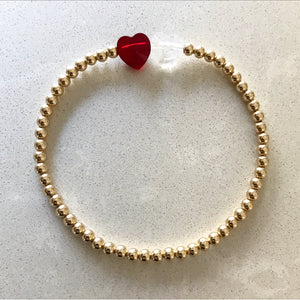 A strand of 3mm 14K Yellow Gold Fill, 14K Rose Gold Fill or Sterling Silver with two genuine faceted Swarovski Crystal Hearts. 
Toi et moi (you and me) refers to a ring with two gems that sit side by side or close to each other, symbolizing two souls becoming one. The significance of two stones was considered particularly romantic because not only did they represent the union between two people, the stones themselves carried symbolism too. Especially popular was the pairing of a diamond with a ruby, the diamond representing love and prosperity, the ruby passion and devotion.
This style was made famous by Napoleon Bonaparte & Josephine, JFK & Jackie O.