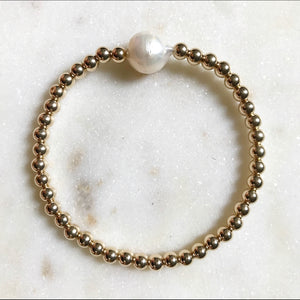 A 4mm 14K Gold Filled beaded bracelet with one 8mm Fresh Water Baroque Pearl.
Each pearl's texture and shape will slightly vary due to it's natural state.
Some healers use pearls to help balance body rhythms and hormone levels with lunar cycles. They have also been used to harmonize humans with nature. The inner glow is thought to tap inner wisdom and nurture love.