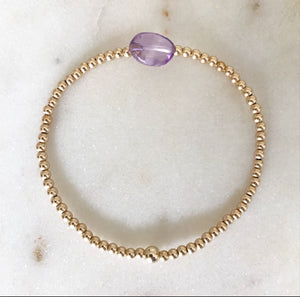 A 2.5mm 14K Gold Filled beaded bracelet with one 6mm-8mm Ametrine Pebble.
Each crystal's size and shape will slightly vary due to it's natural state.
Ametrine is Amethyst and Citrine. It's been known to clear stress and tension, calming the mind. It has been said to enhance compatibility and the acceptance of others. A creativity stimulant that also balances emotions and soothes feelings of depression.